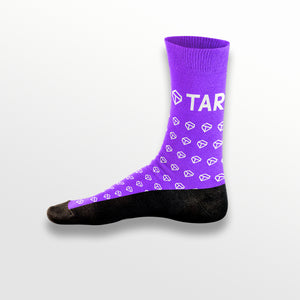 Fashion Forward Socks
15,000
---
---
Probably less embarrassing than the other crypto socks you have, also purple. 
These unisex crew socks are for shoe sizes 9-12 and are made of 85% polyester / 10% cotton / 5% spandex.

This item is currently shipping within 1 week.
---


Items require a tXTR payment sent via Tari Aurora and a shipping payment in USD, BTC or XMR. See more here.

Items are extremely limited and are NOT refundable. Prices & availability are subject to change at any time.